Deck Hunter Download For Pc Compressed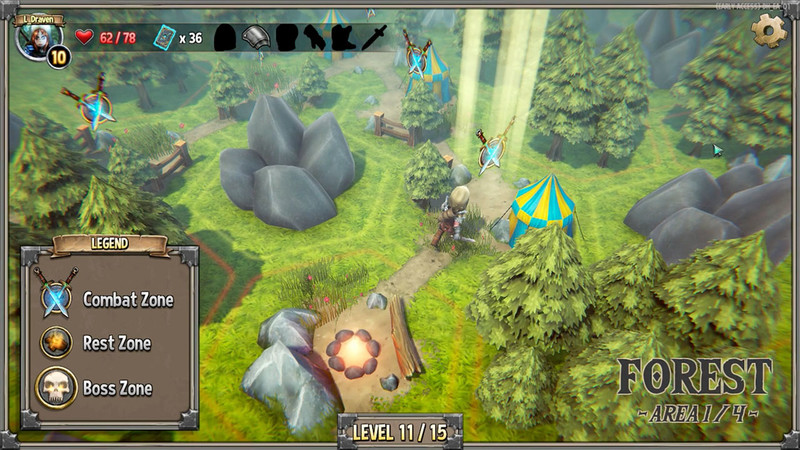 Download ->->->-> DOWNLOAD
About This Game
Deck Hunter is a roguelike card game. The World of Klanojh has been cursed by Glatta, the Goddess of Anger. Build your deck, make combos, defeat fantasy creatures and help Avery to face the evil and restore the balance!
The World of Klanojh
Help Avery to face her destiny and fight against the forces of evil in an eternal battle for balance. Be the first of the hunters to find the armor to defeat Glatta. Rewrite your past fighting the present. Restore the order and the honor lost after the Clans War, which established a new status in the World of Klanojh where the Hunters became the new hope.

Explore the past of Avery while she discovers her master, get her youth alliances and make beginner mistakes. Help to restore the peace in a world threatened by the tyranny of the Goddess of Anger, Glatta.
Unleash the deck power
Deck Hunter is a deck builder card game, easy to play hard to master. Try to defeat Glatta and her enemy hordes combining attack, defense and spells cards. Unlock armors to increase the power of your deck.

Every game will be different from the previous one. Explore the map of the World of Klanojh to unlock hidden areas and discover all the secrets of this mysterious world. Win the challenge before other Hunter to become the first one who defeats Glatta. Reach the absolute power of the cards and upgrade them to hold a destructive power deck.
Cute but Savage
The World of Klanojh consists of different areas where each one has its own flora and wildlife. Aesthetically, every area represents the essence of their creatures, monsters and dangers and the clan that rules the area. The World of Klanojh combines the tradition of the clans in a large land to explore for the Hunters, but not all of them are ready to do it. Get lost in the Forest or the Mountains to defeat new creatures while using your cards wisely. Deck Hunter presents an accurate fantasy cartoon style to bring the players to the World of Klanojh. Don't doze off because of this "cute" visual style or you'll bite the dust.
Features
A new roguelike card game.

Get to the heart of the World of Klanojh to restore the balance.

Unleash the power of your deck increasing your power as a hunter.

Customize your armor.

Unlock new areas to meet new challenges.

Fantasy cartoon style.

Get involved in the development of the game with your feedback.

Easy to play, hard to master.
a09c17d780

Title: Deck Hunter
Genre: Adventure, Indie, RPG, Early Access
Developer:
L_Draven
Publisher:
L_Draven
Release Date: 30 May, 2019
Minimum:

OS: Windows 7

Processor: 2.0 Ghz

Memory: 4 GB RAM

Graphics: 256 Mb Video Memory

Network: Broadband Internet connection

Storage: 300 MB available space
English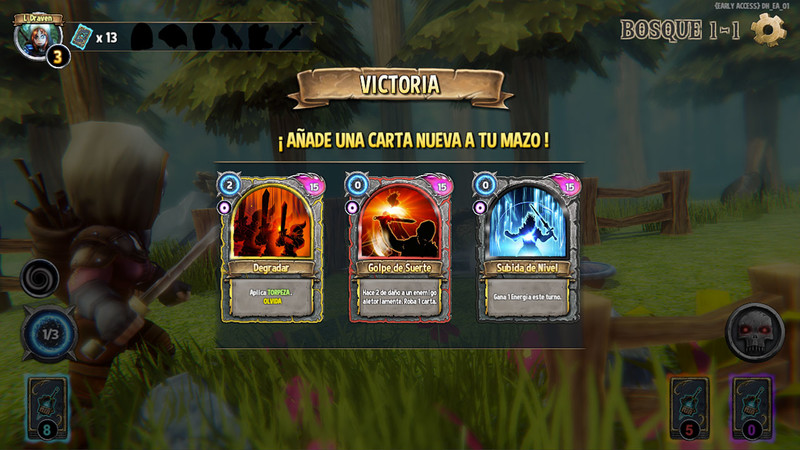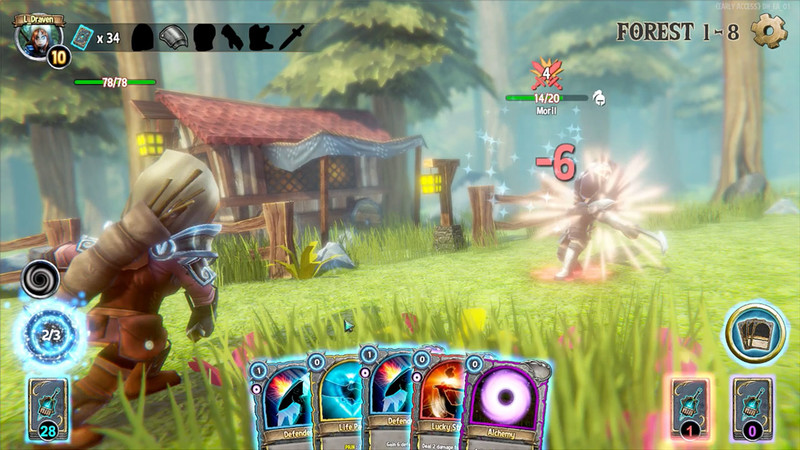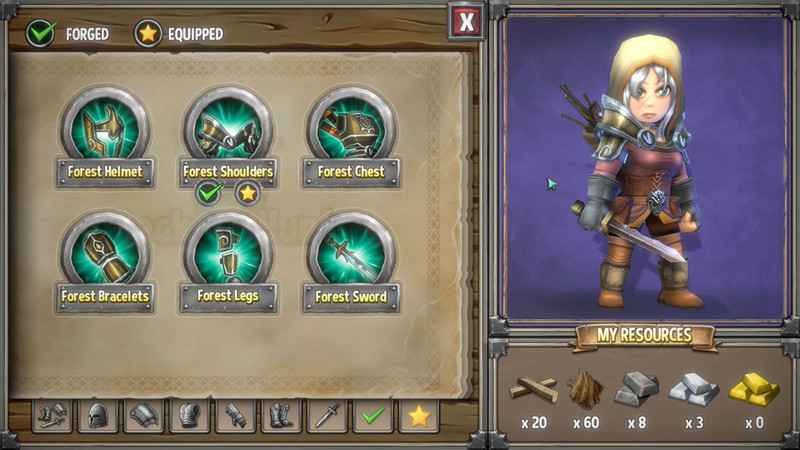 It's an interesting idea. The graphics are cute and fun. After you unlock a few cards there ends up being some good variety. The hidden combo system is an interesting innovation and pretty fun.

However, the upgrade system needs an overhaul. It encourages you to stall every single fight, which leads to a huge boring grind early as you stall and stall to focus on leveling up your cards. Hitting into shields to upgrade your attacks, overdefending to level up your defense cards. Stalling to level up your FORGET cards. It's super flawed, but you *need* to upgrade your cards to proceed far.

I'm assuming this will get tweaked during EA. Other than that, I've been enjoying this guy so far. Solid game.

(UPDATE: Beat the current content in about 4 hours on my second try. Review stands. I'm a bit more positive on the upgrade system now, but it does need a rework. The balancing tends to be that enemies eventually get "Ultimates" which force the fight to end one way or another. One minor complaint is that some of the upgraded cards are worse than the cards before them, but that's just learning all of the cards in the game. This is going in the right direction and I'm glad I purchased it. Deckbuilders! The armor\/weapon system looks.. okay, I guess? The example armor\/weapons aren't very interesting and it's a grind to make a single item.. not sure it's worth the feature so far.). I understand it is still in early access, I am just moaning... sorry for long words.
=====
I bought this game because it looks really similar with Slay the Spire. The route(map) to boss, camp fire to rest, starter deck (strike and defend), select a card of out 3 after battle...
I have played both game during the very beginning of early access, so I might use the some standard to review this game.

There are something new stuff compared to StS (in early access):
->race of monster, some cards duel more damage to specific monster but less to others
->combo system (use cards by order; e.g. Defend+Strike = success -> draw 1 card; Strike+Defend = fail - discard 1 card)
->upgrade cards by keep using it (use specific times of the same card to upgrade it; e.g. use 15 times Strike, which is counted separately for any individual 'Strike' in your deck] to automatically upgrade to Strike+, or other name I forgot)
->equipment system for character
->3D model

But there are few things are quite frustrating.
->'Downgrade', 'Strike', 'Thunderbolt', 'Defend'. These cards are almost all cards you can get in first few levels of your character, you can get more cards after you upgrade tho. For me levelling needs quite lots of time and not satisfying
->frustrating combo system (e.g. 'defend+' + strike = nothing happen?)
->upgrading card is kind of a penalty. For example, Strike and Defend are 1 cost, they only duel 6 damage and provide 6 armor. But how dafuq it forces you to discard one card to use it after it is upgraded. (1cost 8 dmg\/ar btw)
->unbalance monster, it's just too strong, especially the fire special attack can duel damage to me directly (and it can be\u2665\u2665\u2665\u2665\u2665\u2665\u2665stack). Sometimes they can stack the armor but sometime they cannot. Sigh, maybe I am just too weak ;(
->No character\/job can be chosen
->To craft an equipment, you need to get the materials; to get a material, you need to beat the boss. I don't know what is the effect of those equipment, but would be grindy af
->In the camp fire, you can rest or remove a card from deck or, of course, a god damn GACHA machine to randomly have a chance to increase maximum health, get new cards or other bs
->Not user-friendly indicators of enemy actions. A 'Skull' indicator implies to all special attack; no indicator of building armor

For now, this game with this price, I will buy a new copy of Slay the Spire on my NS.. What it has:
Cards that Upgrade
Cards that unlock on leveling up your one character

What it doesn't have:
Multiple Characters
Any variation in the two paths
The ability to decline picking a card after a fight
The concept of a 0 card cost upgrade still being 0 cost
Merchant squares
Mini-Elite Squares

Overall:
The concept is great, the implementation of that concept is awful. Just pass on this mess especially while it's in early access.
. Ever thought to yourself \u201cI love Slay the Spire but would like it to be in 3D. I honestly have no idea how to create a rogue deck builder game but I can make it look somewhat nice.\u201d? That\u00b4s what happened here. I understand its EA and everyone is doing his best and I commend the effort for trying, but geezus *internal screeching* the game is bad. There are only a very very tiny few mechanics that differ from Slay the Spire, even though STS has waaaaaaaaay more in total, and the worst thing is, they all SUCK.

+Looks nice enough.
+Took less than 1 day after release to get some broken cards to be fixed in a patch.

-Theres a lack of enemy\/encounter variety.
-Strategic possibilities are incredibly restricted.
-Hidden card combos are interesting but do not work with other mechanics and can screw you over.
-Seems like there is still a lot of cards to unlock but with the game forcing cards on you.
-On resting sites, when you pass on the healing in order to get a bonus, you get ONE random thing, no choosing, and can even get curses or lose health xD wtfffffff
-It feels less like Im building a deck and more like im being forced into a trash deck.
-The grind is incredibly infuriating. You have to play 2 runs to the first boss (which you cannot beat with your cards) just to unlock more than the 4 basic cards that you start with. And all you get during those 2 runs is those same 4 annoying cards! Consider the fact that in STS you start with SEVENTYFIVE cards to begin with, and unlock 3 additional cards each time you level up. Here you start with FOUR and get the same 3 for each level up.

-The combat reward is literally getting trash cards forced into your deck while the game is encouraging you to build small decks in order to be able to upgrade the cards by playing the same card over and over. The one strategy this game allows you to play also forces you to try and drag fights out as much as possible in order to play your cards over and over until they upgrade\u2026. In the first 2 matches (not runs) I was able to upgrade ALL my defensive and offensive abilities without any problem whatsoever. Just play armor over and over again until they all upgrade (15 plays for each card), play your offensives while the enemy has armor and when you\u00b4re done, kill the enemy. It doesn\u2019t really make sense to play that armor card when you\u2019re not getting attacked? No matter, you will be spamming the crap out of your cards just to get those sweet upgrades!

-Wait a second, that\u2019s the upgrade!? For a +2 dmg or +2 armor on your 6 dmg\/armor card, you now have to discard a RANDOM card from your hand!? \u201cJust play the random discard at the end\u201d, you say? You shouldn\u00b4t, because the game is based on those hidden sequence combos! And if you were able to upgrade all of your cards (which should be amazing), you are fuuuu.... Turns out the rewards for advancing are actually downgrades with incredibly negative impacts!


The most important thing about a deck builder is that you can BUILD A DECK to your liking and strategy (which should be varied) with a good combination between randomness and strategic choice, which when done well, will reward the player and allow him to progress. This game delivers NOTHING of the sorts. Some cards are unbalanced, which can be fixed, but all of the mechanics that this game tries to deliver and make it different from STS are AWEFUL.
I had this game on my wishlist for a very long time and was really excited when it finally came out. But if you\u2019re going to copy a game like STS, then at least make it better, not worse.

I can\u00b4t believe this game was so cheap and I still feel robbed and violated. Im getting my refund.. hi guys
i love deck buiding game,so that i bought this game after just 2 mins when it release
but i can't play a second beacause of the bad optimization


i can't wait any longer

. It's such a grind to start with. You get only 3 cards to start with and after every fight you have to pick another of those same 3 cards. After 3 games I was able to unlock a few more cards but I was already burned out playing the same 2 cards again and again.. Needs some updates, especially the card upgrade mechanic is something I don't enjoy, makes the game very grindy and wants you to stall the battles, but it has potential to be good. Still enjoyed it.. Great game, love the balancing on it, even if level one is a bit frustrating. Love the combo system, and they're easy to remember as well :) Also L_Draven is working all by himself, but STILL manages to update regularly! I'm a huge Slay the Spire fan (easily over 100 hours on it) but I enjoy both games.